Pristine Detail Microfiber Cutting Pads. Size: 32mm, 36mm, 50mm, 55mm, 75mm, 80mm
Meguiars DA Microfiber Cutting Pads were designed for maximum defect removal, even on hard paint systems. Equip your DA polisher with a Meguiars DA Microfiber Cutting Pad and you'll be amazed at how quickly and effortlessly swirls, scratches, and water spots are removed.

Meguiars DA Microfiber Cutting Pads are made with an engineered foam interface for optimal cutting efficiency and controlled conformability.
Meguiars DA Microfiber Cutting Pads will remove severe to moderate surface defects.
Pristine Detail manufacture 3.2" (80mm)  3" (75mm), 2" (50mm) & 1.2" (32mm) pads. 
Also available are pads for the Rupes ibrid nano in sizes: 1.4" (36mm) & 2.2" (55mm) variations.
Now you can get the same great cutting power in those tight areas you couldn't reach before.
Image used is for information purposes only and does not depict the final packaging used.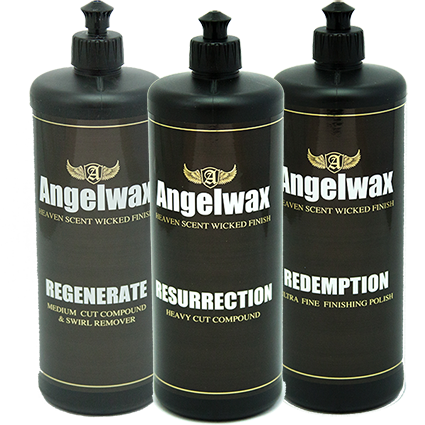 Angelwax polishes:
 Fantastic performance, low dust levels & a superb finish. Used & loved by top detailers worldwide.